About Cape Town
There is nowhere like Cape Town. Perched between the ocean and the mountain, with a national park as its heart, it's a place to renew and reconnect.

Cape Town, the "Mother City", is the oldest city in our country and has a cultural heritage spanning more than 300 years. It also has the top five national attractions in South Africa that should appear on every visitor's itinery all year round.


Don't miss a visit up Table Mountain, the V&A Waterfront, a unique shopping and holiday experience on a scenic working harbour, Robben Island, the former home of Nelson Mandela, the Cape Town Wine Routes, where some of the world's finest wines are produced and Kirstenbosch Botanical Gardens, internationally acclaimed as one of the great botanical gardens in the world.

The unique topography of the region makes it easy to orientate oneself as long as you remember that with Table Mountain behind you and Robben Island before you. you are facing north, looking across Table Bay and up the west coast of Africa.
To help you find your way around the Cape Town region, the area is divided into seven tourism areas - the Atlantic Seaboard, Blaawberg Coast, Cape Flats, Cape Town Central, Cape Town North, Cape Town South and the False Bay coast. These areas are defined by their geographical location and within each area there are a number of towns and suburbs. Please click on the links to find where to stay, what to see and do as well as how to plan your visit.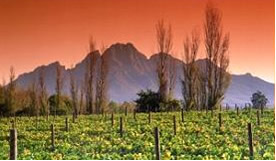 Cape Town is one of the most popular long haul destinations in the world. It is in Cape Town that the Rainbow Nation really covers the spectrum .
Between beautiful Cape Dutch homesteads, traditional dancers with painted faces performing in the streets, the smell of spicy Malay cooking and the tang of a well-made wine, this city will fill your senses.


Voted Favourite Foreign City - UK Telegraph 2004